Ceph Community Newsletter, June 2020 Edition
Announcements ¶
Virtual Ceph Days ¶
Thank you to everyone who has participated in our Virtual Ceph Day questionnaire. We are still in the process of finalizing a platform and details. If you were previously selected as a presenter for the planned Cephalocon 2020 event, consider applying for the CFP.
Ceph Tech Talk for July 2020: A Different Scale - Running small ceph clusters in multiple data centers ¶
The Ceph community keeps the tech talks going for 2020! We've heard introductions to the new release Octopus which brings many new improvements and enhancements; to exciting tales with solving the bug of the year in Ceph.
We decided this month small Ceph clusters needed attention and Yuval Freund has experience with this scale within multiple data centers. Catch us on July 23rd at 17:00 UTC live!
On August 27th hear about the STS ( Secure Token Service) in RGW by Pritha Srivastava.
If the time doesn't work for you, make sure to subscribe to Ceph on Youtube and review the recording at your convenience.
Subscribe to the community calendar
User Survey 2019 Update ¶
The user survey is expected to be released on July 20th. There were 405 responses from 60 different countries. Thank you to everyone who took the time to fill out this information.
Ceph Octopus Shirts ¶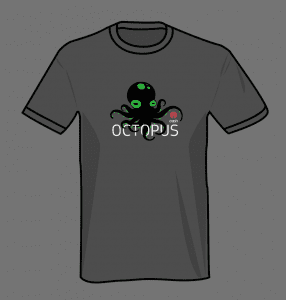 Where are they? Your community manager is having a bit of a late start this year, but the process is sort of going. The artwork has been completed; Spreadshirt will be pressing and shipping them and finally providing us a real storefront!
By the way, did we mention Spreadshirt deploys Ceph for their own internal use?
If you contributed to Ceph for the Octopus release, you should receive an email to request a free shirt sometime in July.
Project updates ¶
Ceph Admin ¶
Ceph Volume ¶
add and delete lvm tags in a single lvchange call (pr#35452, Jan Fajerski)
add ceph.osdspec_affinity tag (pr#35134, Joshua Schmid)
CephFS ¶
Dashboard ¶
Orchestrator ¶
Nautilus: Deepsea orchestrator now supports configuring the Ceph Dashboard (v14.2.3)

Work started on adding container support for the SSH orchestrator

Rook orchestrator now supports `ceph orchestrator host ls`
Rados ¶
- ceph-bluestore-tool: the ability to add/remove/resize db and wal for an existing bluestore osd
osd: pg merging has merged
osd, bluestore: new single osd_memory_target option to control osd memory consumption (obsoletes bluestore_cache_size)
mon: track hardware device health for mons, just like osds
Rados Block Device ¶
Live image migration: an in-use image can be migrated to a new pool or to a new image with different layout settings with minimal downtime.
Simplified mirroring setup: The monitor addresses and CephX keys for remote clusters can now be stored in the local Ceph cluster.
Initial support for namespace isolation: a single RBD pool can be used to store RBD images for multiple tenants
Simplified configuration overrides: global, pool-, and image-level configuration overrides now supported
Image timestamps: last modified and accessed timestamps are now supported
Rados Gateway ¶
Releases ¶
Ceph Planet ¶
Project Meeting Recordings ¶