Ceph Community Newsletter, September 2020 Edition
Announcements ¶
Ceph Octopus Release Shirt Update ¶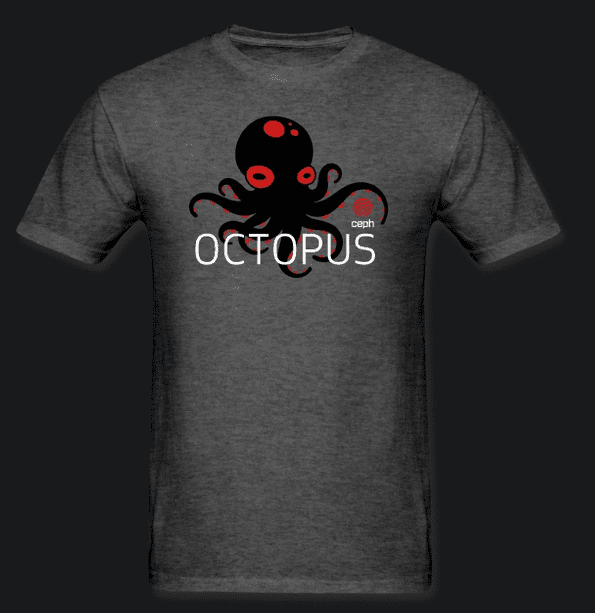 By now, the Ceph Octopus release contributors should have received an email to request a free shirt; if you did not receive an email, contact FOUNDATION AT CEPH dot IO.
Due to individual countries' COVID-19 custom restrictions, we are unable to ship shirts to the following countries:
http://communitycentral.tv/cool_stuff_store
We are currently looking into a local vendor in India.
We are also in the process of setting a Ceph store for people to purchase this shirt or previous Ceph release shirts.
Ceph User Survey 2020 Planning ¶
Anantha Adiga has just announced the start of the Ceph User Survey 2020 planning. Two goals: create a special interest group to annually plan for the next user survey, and improve the questions of the user survey to get the best data with the participation time. You can review the 2019 and 2018 survey results for reference.
---
Project updates ¶
CephFS ¶
Dashboard ¶
In the past month, more than pull requests have been merged in total (of which 19 have been backported into stable branches). Among countless bug fixes, test improvements and minor changes, the following noteworthy/user-visible changes have been added:
The following noteworthy improvements are currently under review (feedback is welcome):
We've also started creating high-level specification documents for some bigger future dashboard tasks. You can review and comment on them on the following pull-requests:
---
Releases ¶
---
Ceph Planet ¶
---
Project Meeting Recordings ¶